&nbsp
We are local partner of a VIST group
VIST Group has been working in the IT industry for more than 28 years, providing indispensable insight into the development of information systems. VISIT Group has been working on developing complex solutions to apply in mining, metallurgy, power-engineering, science and telecommunication industries. This company is leading in the sector regarding the deployment of mine fleet management systems and control systems. We have managed to successfully implement software systems across broad industrial mining enterprises throughout Russia, CIS, Africa and South America.
VIST GROUP's goal is to become a global leader in the market of innovative solutions for mining industries, OEM manufacturers and autonomous industrial vehicles.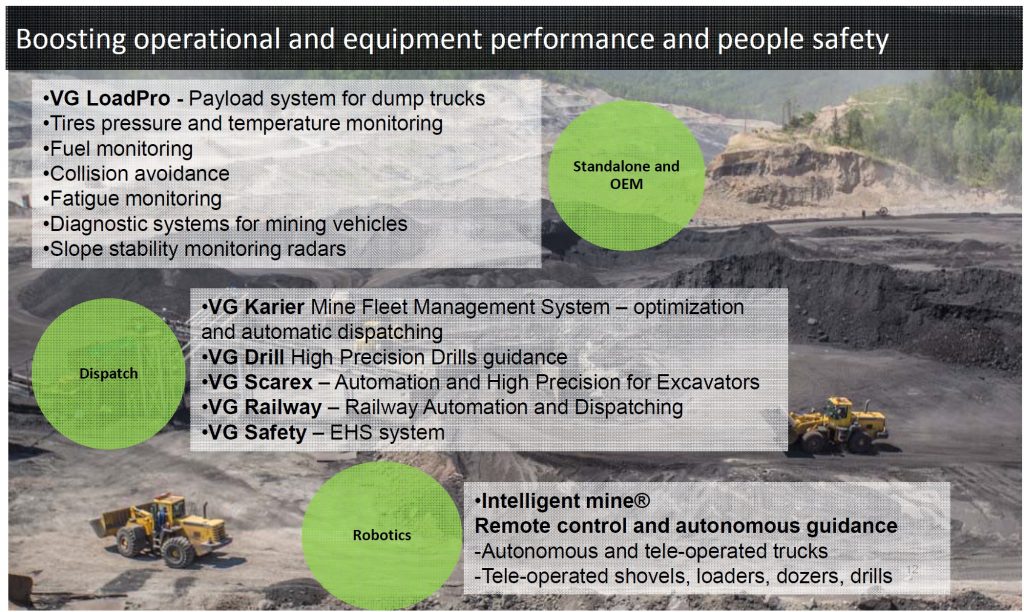 Basic lines of activity:
– Development and implementation of dispatch systems for transportation facilities
– KARIER Mine Fleet Management Systems
– Transport facilities condition sensors
– Load and fuel level control systems
– High Precision systems of operative monitoring and correction of the excavator's work front
– Orlaco Vision Solutions
– Wheel-loader scales
– Tire pressure control system
– The industrial safety management system
– High Precision Drill Guidance (VG Drill)
– VG Railway
– VG Service
– Creating robotized mining areas
INTELLIGENT MINE
The use of an Intelligent Mine system and its separate modules provide:
– An increase of mine fleet productivity by 15-20%
–Increases safety in the mines
– Mining is now possible in remote areas and areas with harsh climate conditions
Russian experience
Key mining enterprises in Russia and CIS use KARIER mine fleet management systems (the creators were awarded the Russian government prize in 2008).
In 2010, a robotized remote-controlled dump truck was successfully tested in BelAZ's testing area.
Onboard electronic systems are now supplied to BelAZ and IZ-KARTEX plants.
Inter-institutional Intelligent Mine systems were established within RAS Scientific Council in February of 2011.
25th of April VIST Group and BelAZ plant specialists had presented their development — robotized dump trucks to the public.
The advantages of developing Intelligent mine systems:
– The system can be built based on the most widespread types of vehicles in Russia and CIS (BelAZ dump trucks, EKG excavators)
– A universal system can be used in different branches of industry
– The possibility of selling these systems on a global market (Africa, Asia, South America).
More details you can find on www.vistgroup.ru/en/ or www.zyfra.com/en/